Details

Published: 09 October 2014
Dialoghi informations
Dialoghi

© Randall Cook
Introduction
The idea of a singer-as-storyteller and the thoughts it provokes about the recipients of my performance have accompanied me for many years -- perhaps even from the time when I started to sing for an audience.
How much does the poetic text and its musical realization, but also my own reception and interpretation of it, influence my narrative style?
In which situations do I embody a dramatized personality whose existence is independent of an audience, and when do I deliberately establish contact with the listener(s) as if to tell them a story, thus bridging the gulf between hall and stage? When can I expect (in return, so to speak) that the audience members' own thoughts and reactions accompany me on my internalized emotional journey?
These contemplations inspired the concert program "Dialoghi a voce sola", recently recorded by ensemble &cetera. The CD is scheduled to appear on the Raumklang label on 17 October 2014.
Biographies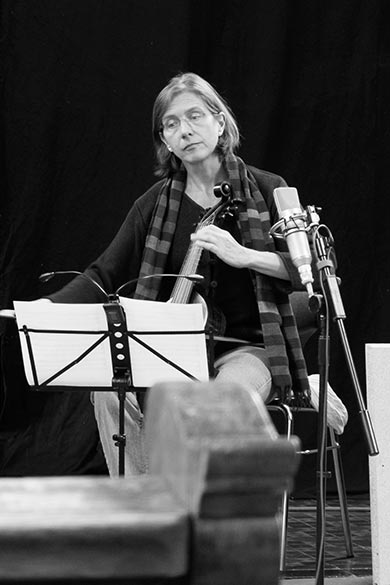 © Randall Cook
Brigitte Gasser
studied the viol at the Schola Cantorum Basiliensis with Jordi Savall and was awarded her diploma in 1990. She gives numerous concerts throughout Europe with different chamber music groups and as a soloist. Her repertoire spans from the 15th century to contemporary music. In addition she teaches the viol at the Conservatory in Bern.


She participates regularly in radio and CD recordings, amongst others with the ensemble Daedalus, The Earle his Viols and Concerto di Viole, of which she is a founder member. She has taken part in opera projects at the Grand Théâtre in Geneva, the Theater Basel, the Festspiele in Innsbruck and the Opera in Zürich.

Besides her work with stilistic careful copies of viols ranging from the 16th to the 18th centuries, she is also fascinated by the sonority and the harmonique possibilities of the lirone as a continuo instrument.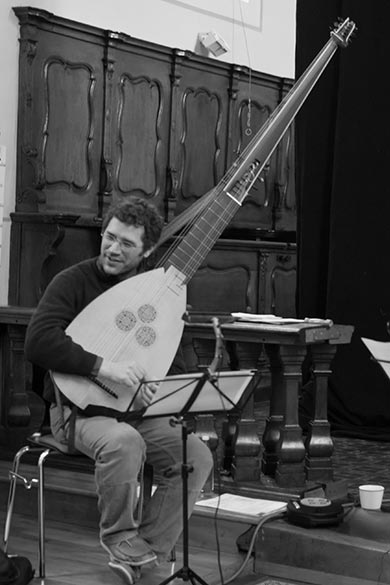 © Randall Cook
Julian Behr
studied classical guitar and lute with Mario Sicca and Robert Barto at the Hochschule für Musik in Stuttgart before going on to post-graduate studies with Joachim Held at the Hamburg conservatoire and Hopkinson Smith at the Schola Cantorum Basiliensis in Basel. Between 2007 and 2011 he taught the lute at the Hochschule für Musik in Nuremberg.


He now appears as a soloist and chamber musician at festivals through out Europe, as well as in Australia and South America. Groups he regularly performs with include 'Ausonia', 'Akademie für Alte Musik Berlin', 'Al Ayre Espagnol', and 'sette voci'. He regularly accompanies the countertenors Franz Vitzthum und Andreas Scholl and has a programme of 17th century English lute-songs with the tenor, David Munderloh.


In addition to his activity as a chamber musician, he also participates in productions of Baroque operas and has performed at the Hamburg Staatsoper, the Deutsche Oper Berlin, and the opera houses of Amsterdam, Ferrara, Sidney, and Brussels..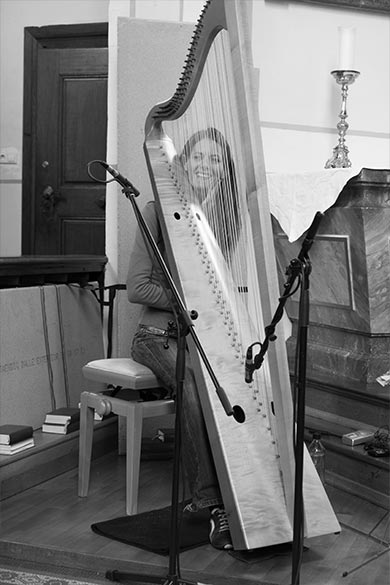 © Randall Cook
Marie Bournisien
Born in Montbéliard, France, Marie Bournisienstudied modern harp at the music school of Montbéliard and at the Paris Conservatory with Frédérique Cambreling. She finished in 1999 with the Prix de la ville de Paris.


Since 1999 she has devoted herself to the historic harp which she studied with Marion Fourquier at the Centre de Musique Médiévale de Paris and with Heidrun Rosenzweig at the Schola Cantorum Basiliensis. In Basel she worked with teachers such as Hopkinson Smith, Andrea Marcon and Jesper Christensen (basso continuo). In 2002 she began postgraduate studies at the Music Academy of The Hague with Christina Pluhar and obtained her diploma in 2005.


Marie has taken part in concerts and recordings with renowned ensembles such Le poème harmonique, Akademia, La cetra, Musica Nova, La chapelle Rhénane, savadi and Clematis. Theese ensembles have taken her all over Europe. As a continuo player she is much in demand and participated in several opera productions, amongst them Monteverdi's Orfeo at the opera of Basel and Frankfurt as well as the Cavalli's La Calisto at the opera of Basel. She currently teaches baroque harp at the Music Academy of Zurich.